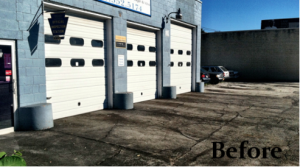 Everything from the appearance of your office to the state of your parking lot makes an impression on potential clients.
When choosing between multiple providers, which do you think a potential client would be more inclined to select: the provider with a neat, tidy facility – or the provider whose facility shows signs of wear and tear?
It's clear you need to pay attention to the details.
Preserve the your New Castle County commercial parking lot with efficient, affordable service from All Out SealCoat. We provide New Castle County sealcoating to many businesses in the region, and we're trusted with the job thanks to our reliability, transparency, and excellent-quality service.
In fact, here are a few reasons businesses go All Out when it comes time to find a New Castle County sealcoating provider:
Transparency – Our experts provide the highest quality of service in our commercial sealcoating projects, but we won't ask you to take our word for it. Instead, we provide videos of the entire process, so that you can be involved and know exactly what you're paying for. We think this promotes accountability on all ends, and allows for optimal communication with our clients.
A 7-step process – We take a methodical approach to our sealcoating projects. Our experts have broken the process down into 7 steps, which act as a blueprint for all of our projects. This ensures we complete each project in an efficient manner, with the highest degree of workmanship.
Passion – Commercial sealcoating isn't just a job for us. Our experts love what they do, and take pride in each and every project. We view each job as an opportunity to showcase our skills and understand each client is trusting us to improve the image of their business.
If you're looking for a reliable New Castle County commercial sealcoating team, look no further than All Out. Our experts will beautify your commercial parking lot and keep you involved with the process.
Contact All Out For New Castle County Commercial Sealcoating
If you've noticed that your New Castle County commercial parking lot is in need of a makeover, don't hesitate to contact All Out Sealcoat today. Our experts will help to restore your lot, so that you can make a good first impression for your customers and avoid the need for a complete repaving in the future. We hope to hear from you soon!