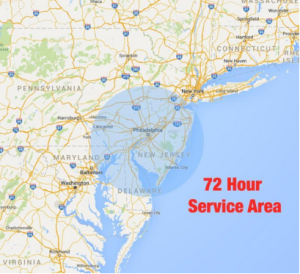 Cultivating an appealing public image is a crucial part of any business' success.
This applies to everything, from your advertising campaigns to your employees to the layout of your store or office space. And of course, it applies to your building's exterior, including your parking lot.
During the spring, it's important to take a look around your parking lot and see if there are any damages from winter, such as cracks or drainage issues. If you discover damages that may discourage your clients in any way, consider our Gloucester County commercial asphalt repair.
Here are a few characteristics that distinguish our services from the competition's:
Full transparency – In order to keep our customers informed of our process, we provide videos of the entire commercial asphalt repair procedure. This way, you can verify we're providing you with the most efficient and professional sealcoating service available.
The best solution for the best price – We'll do our research to develop the best possible course of action for your specific commercial parking lot. What's more, we'll execute our plan at a reasonable rate while maintaining our extremely high standards. Typically, commercial asphalt repair rates run from $2-$6 per square foot, depending on the extent of the damage.
A 7-step process – We don't miss the details when it comes to our Gloucester commercial asphalt repair process. To make sure our job is thorough and complete, we utilize a comprehensive 7-step process unique to our business.
Whether you're in need of a simple recoating or a comprehensive repair for your entire commercial parking lot, the experts at All Out Sealcoating can help. We'll have your commercial asphalt looking new and professional again in no time.
Contact All Out Sealcoating for Gloucester County Commercial Asphalt Repair
If you've determined your commercial asphalt could use an upgrade, don't hesitate to contact All Out today. Repairing or recoating your asphalt will keep your business' image clean and crisp.
Contact us today to schedule a free analysis. We look forward to hearing from you!