New Year's Resolutions You Can Actually Keep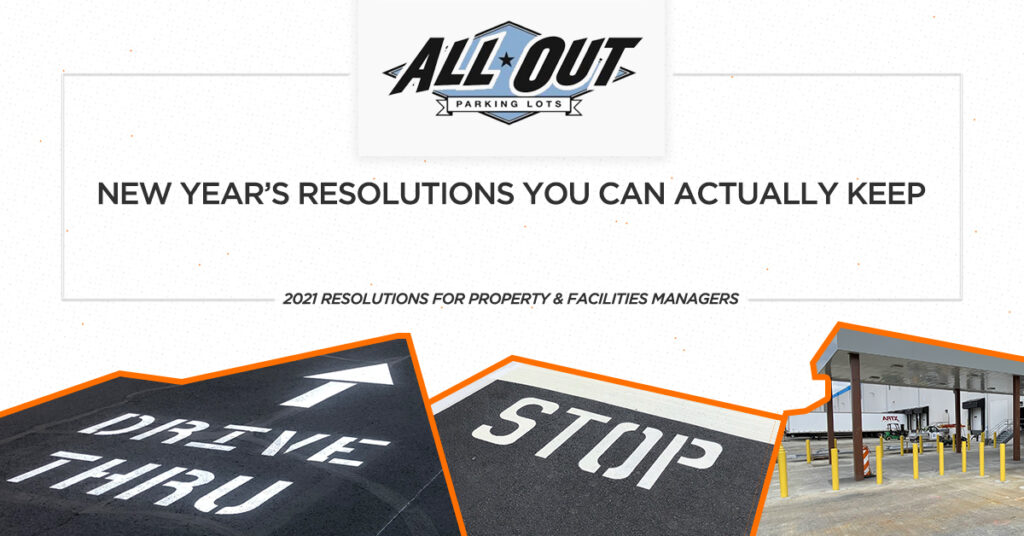 New Year's Resolutions You Can Actually Keep: 2021 Resolutions For Property & Facilities Managers
There you have it. It's nearly 2021. A new year, with a considerable amount of development within the parking and mobility industries. The current environment has forced property managers and owners to offer more flexibility with their parking lots and commercial properties. To keep you updated and prepared, we've drafted a list of 5 NOT-TO-MISS RESOLUTIONS you can make for 2021 to keep your property ahead of the curve.
Prioritize Commercial Parking Lot Safety
High-quality, safe, and accessible paved parking lots are essential for heavily trafficked business lots. From top-notch installation to adequate surveys and regular maintenance, make sure to keep your property's pavement top of mind to ensure a stable and safe for consumer lifespan of your asphalt lots.
Maintain Markings & Signage
Keeping parking lot stripage and signage clearly visible is another critical step in creating a safe, customer-friendly lot for drivers. Whether it's a new layout, or restripe – quality, well-defined lot lines and contrasting, compliant signage helps show visitors their business is valued and you aim to make their experience pleasant and convenient. Ensure your lot is looking it's best with all markings and signage meeting local regulations and requirements to avoid fines and compliance issues.
Plan & Evaluate the State of Your Commercial Lots
An effective layout is key to organizing a successful traffic pattern and flow. This year has forced change in the way we live, work and socialize. These changes have also been a reminder to property owners and managers of the need to continue to adapt to customer needs. Wider spaces providing additional distance, curb-side pickup options for safe, contact free interaction and increased drive-thru traffic are all potential catalysts for a parking lot redesign. 2021 will require property owners and managers alike to innovate to meet the demands of the consumer and we're here to help lead the way. Our experienced team can quickly identify an action plan to match your goals in the most effective and affordable way possible.
Prepare for Emergency Response
Resolving issues to exterior spaces is another important step to avoid costly repairs and limit safety liabilities. ALL OUT's emergency response team can quickly address potholes, collapsed catch basins and other property liabilities.
Pick an Asphalt Contractor Ready to Build a Strong Partnership
ALL OUT is a relationship driven team of pavement & asphalt experts, built to make your life easier. We're here to provide flexible and reliable solutions and are standing by to meet your demands. If there's one resolution you should keep for 2021, it's hiring a contractor you can trust to deliver. Miss our 2021 Asphalt & Concrete Contractor Checklist? Give it a quick read to learn how we stand out and go ALL OUT for our customers.
ALL OUT Parking Lots performs work on asphalt and concrete for domestic and commercial clients. The Inc. 5000 company also works on paving, sealcoating and line striping for clients' parking lots in PA, NJ, DE, MD, and NY. For further information about ALL OUT, please visit AllOutParkingLots.com or contact Marco Menna directly.